Watch | Keep Calm and Carry On: Tax for the Financial Remedies Practitioner (with a presentation on Mltpl)
12 January 2023
Published: 12/12/2022 10:29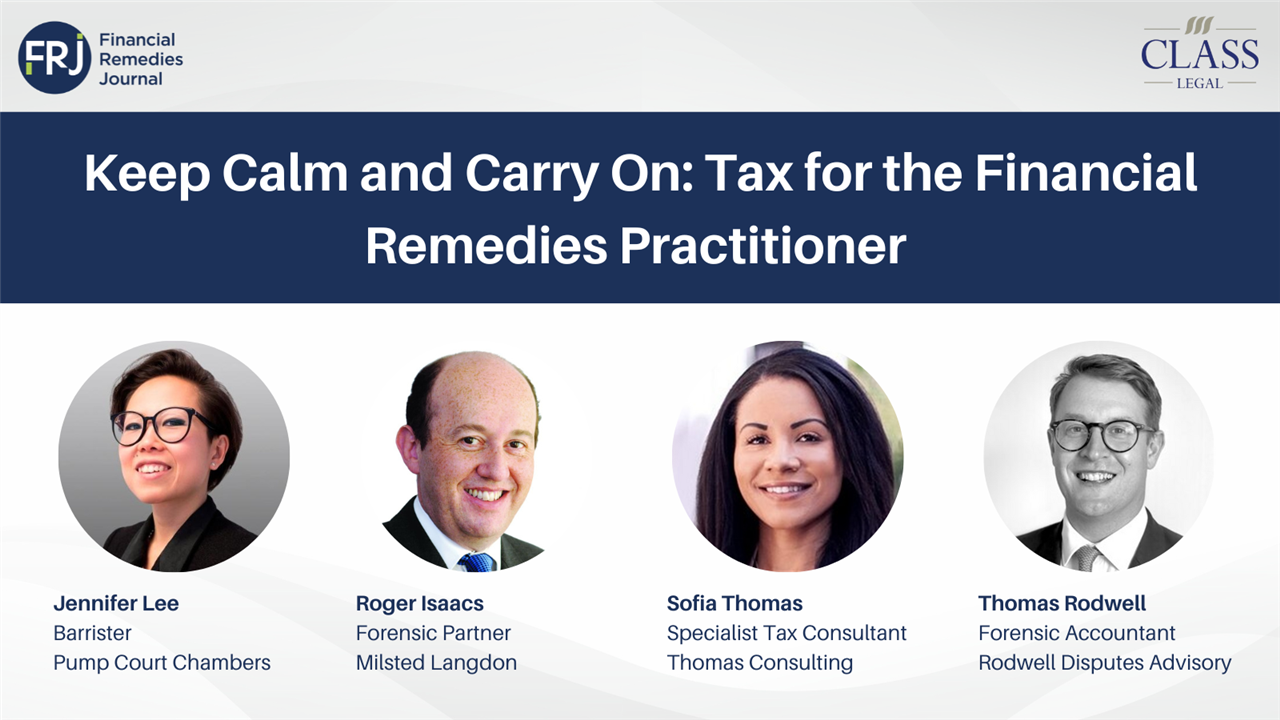 Watch the recording of 'Keep Calm and Carry On: Tax for the Financial Remedies Practitioner (with a presentation on Mltpl)' first broadcast on Thursday 12th January 2023, with speakers: Jennifer Lee, Pump Court Chambers; Sofia Thomas, Thomas Consulting; Roger Isaacs, Milsted Langdon; and Thomas Rodwell, Rodwell Disputes Advisory.
Are you familiar with the basic principles of taxation? How will the latest changes relating to income tax, capital gains tax and stamp duty land tax affect your clients? What about business disposals?
SPEAKERS
Jennifer Lee, Pump Court Chambers
Jennifer Lee is a specialist family law practitioner at Pump Court Chambers. She has a thriving practice in family finance and regularly represents HNW clients in matters involving family businesses, inherited wealth, substantial pensions, nuptial agreements, and trusts. Many of her cases also involve foreign or offshore assets, tax complications, and issues concerning jurisdiction and the validity or otherwise of an overseas marriage/ divorce.
Jennifer has appeared in high-profile reported cases, most notably in Veluppillai v Veluppillai & Ors [2015] EWHC 3095 (Fam) (High Court), in LFL v LSL (McKenzie Friends & Breach of Court Orders) [2017] EWFC B62, and more recently, in N v N (Afghanistan: Validity of an overseas marriage: Procedure)[2020] EWFC B55.
Jennifer has developed an interest in capacity issues and the Court of Protection, particularly where there are overlaps with divorce/financial claims, and in complex children law including modern families. She leads the Court of Protection Team at Pump Court
Jennifer sits as a Fee-paid Judge of the First-tier Tribunal (Tax Chamber). She is ranked as a "Leading Junior (Tier 1) - Family and Children Law" in The Legal 500, and as a specialist in "family/matrimonial law (Band 2)" in Chambers & Partners (UK Bar). She regularly appears in arbitrations and private FDRs, and sits as a private FDR judge. She has been highly commended for her attention to detail and her robust approach, both in negotiations and during hearings.
Jennifer is a member of the FLBA, LAWASIA, and Resolution. She sits on Resolution's ED&I Committee. She regularly presents seminars and contributes to various publications on topical family law matters.
Roger Isaacs, Milsted Langdon LLP
Roger Isaacs is an award-winning chartered accountant and experienced expert witness. He is a partner in Milsted Langdon LLP, a regional accountancy practice with offices in London and the South West of England. Roger lectures and writes regularly on accountancy related topics in the context of separation and divorce.
Sofia Thomas, Thomas Consulting
Sofia Thomas is co-author of Tax Implications on Family Breakdown and a leading expert in tax on divorce and separation. Sofia is a Fellow of the Chartered Institute of Taxation.
Thomas Rodwell, Rodwell Disputes Advisory
Thomas Rodwell is a forensic accountant and business valuation expert who provides economic and financial advice. He is a member of the Institute of Chartered Accountants in England and Wales and the Society of Share and Business Valuers. He is regularly appointed as an expert to opine on issues of finance and valuation and is the founding member of Rodwell Disputes Advisory (RDA), a leading boutique advisory practice for commercial and matrimonial disputes.
©2023 Class Legal
classlegal.com